Mobile Applications
Medical apps on mobile technology are increasingly in demand from patients and health professionals. JVS Group has launched application on iOS and Android platform for independent use by healthcare professionals and apps which work in sync with hospital management system & EHR.
Feature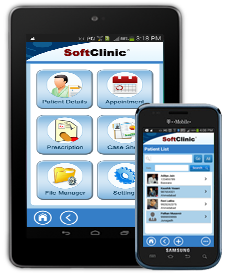 Patient module – Patient search, edit patient details, View, Add and Edit Appointment, Visit and Admission Details of a Patient
Appointment module – Search Appointment by Date & Patient's Name; Add appointment for patient.
Visit module – Search Visit by Date & Patient's Name and also add, edit, save and delete visit details of the patient.
Admission module – Search Admission by Date & Patient's Name and also add, edit, save and delete admission details.
Round notes details – Search Round notes By Date & Patient's Name and also add, edit, save and delete Round notes details.
Discharge notes – Search discharge By Date & Patient's Name and also add, edit and save discharge details.
Help module – Phone support and Tutorials.
Nursing notes – Intended as a rule of thought by which nurses can teach themselves to nurse can be viewed by doctors
Vital details – Information for Medical Staff to be used along with, It is critical that consult regarding the details of routine information
Investigation – Tests and investigations help accurately diagnose and plan treatment for patient to doctors
Prescription – Health-care program implemented by a doctors or other qualified practitioner in the form of instructions that govern the plan of care for an individual patient prescribed by doctors
Operative notes – A document produced by a surgeon or other doctors who have participated in a surgical intervention, which contains a detailed account of the findings, the procedure used, the specimens removed, the preoperative and postoperative diagnoses, and names of the primary performing surgeon and any assistants for patient to doctors
File manager – View patient documents and images for understanding condition and investigation of the patient by doctors.
| | |
| --- | --- |
| | |